Perseverance, Systems-Style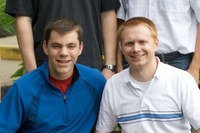 Justin and Me
One of the things I most enjoy about working in DM's Systems Department is seeing how spiritual truth informs our work with computers. Recently I've seen this in my work on DM's Staff Website (an intranet site our staff use to access all kinds of ministry-related information). Last summer, our summer intern Justin Brown helped me to update the software running the staff website. While we were able to accomplish the update itself, there were quite a few outstanding issues that remained to be fixed. I had lots of ideas for ways to make the site more useful, but there were other (bigger) opportunities for us to pursue first.
DiscipleMakers' "Faith" core value says, "Whatever our organizational position, we are to ask ourselves what we can do to help." The idea is that the effort we put in is in service of the mission rather than ourselves. We do this in faith that God will work and reward our efforts through the building of His Kingdom regardless of whatever other benefits we might receive.
Since setting aside my work on the Staff Website early last fall, I've been able to contribute to the mission in two very exciting ways. First, I took part in our work on our new accounting system, which has turned out to be a wonderful blessing to us as an organization. Second, I've more recently had the opportunity to spend a few weeks working on the Staff Website again. I was able to fix the remaining technical issues, making this important resource more useful for our staff.
This experience has been an encouraging reminder of how the gospel applies to our work: Our efforts can make a difference, but we never put our hope in the work itself or its benefit to us. Rather, we submit our efforts to the Lord as a sacrifice made in faith, trusting that in Him our labor is not in vain. (1 Co. 15:58)
Document Actions