Meet the intern: Vic Chester
Posted by chesterv
at Jul 28, 2011 02:25 PM |
Permalink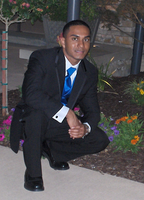 Ezekiel 36:26 - And I will give you a new heart, and a new spirit I will put within you. And I will remove the heart of stone from your flesh and give you a heart of flesh.
My name is Vic Chester and my time working at Disciple
Makers
during the
Systems Dept
2011 summer internship has been one of the most memorable of my life. Some of the most common questions I'm often asked by people are, "How is the internship going?", or, "What is your favorite part so far?". I often feel less than content with my answers to these questions because words alone can never fully convey my feelings during my time at D
M
. It is more than I could have ever hoped for in an internship!
I'm a soon-to-be graduating student from
East Stroudsburg University
enrolled in their
B.S. Computer Science/Computer Security dual major program
, and due to graduation requirements an internship was necessary. Much of my early attempts at pursuing an internship were frustrated for reasons which at the time appeared to me as very bizarre. There were many prospective internship opportunities characterized by positive interviews and further supported by recommendations by my professor that still somehow fell through the cracks. Most others around me who I deemed less than qualified were receiving well paying internships at good companies. It just didn't make any sense to me. Of course, up until this point, my ideal internship was one at a company where I would wear a suit to the office everyday and earn a two-figure hourly rate in the high teens if not twenties. Though the dress code at the D
M
HQ can be described at times as less than casual and I would end up raising my own support for the internship, it is truly a testament to God's goodness and how He really does have the best in store for those He loves!
There is so much I can say that I've learned from this experience. I have definitely found working in the Systems Dept challenging and rewarding. Through various meetings with cool names like "tactical" or "strategic" and with an example set forth by several mentors, I have learned much about productivity and collaboration. My independent security research for the department has been successful in demonstrating I am capable of accomplishing goals through
perseverance
. "Failing in the right direction" is often a good place to be when faced with uncertainty.
Similarly, because I work in an environment where the love of Christ is determinedly imaged, I have grown so much spiritually. I have learned more and more what an important role effective communication plays in walking in love with others. I have also come to appreciate the value in being more open with others through team meetings and discipleship by several men willing to share their insight. I have learned that listening for God's voice, though it can be a means, is also an end in itself. I am excited to be currently working on a
security awareness program
for D
M
and I pray that by God's grace my work would prove to be a fruitful experience for me as well as serve other staff members.
Besides work, I have also participated in parties, movie-nights, BBQ's, retreats, an
hour-long fireworks show during the 4th of July
, and even had the pleasure of going rafting for the first time! Add to that an amazing
host family
where I have my own room and bathroom and the many five-star dinners I've had with various
families
, this internship has felt more like a first-class vacation than a job!
I'm extremely grateful for this opportunity to share about my experience during the internship which sharply contrasts my summer two years ago before I was saved. When I am tempted to forget how good God is, I know reading this will serve as a reminder of how God worked in my life during this summer. The
Disciple
Makers
internship
is an unforgettable experience for anyone interested in serving God using their gifts while growing in community!
Document Actions