Can accounting software get applause?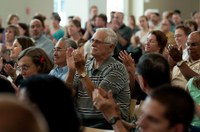 When a cool new technology is unveiled, it is often done so to the sound of much applause and cheering. Rightly so! New technology that is useful or fun is a big deal!
Think for a moment about what kinds of new technology get you excited. Perhaps its the latest gadget from Apple or Google. Perhaps its technology that makes life simpler to organize or maintain. Or perhaps you just like when expensive things become cheap or free.
But, would you ever guess that accounting software could get people to cheer?
Find out how it happened at the DiscipleMakers 2010 Winter Staff Conference by watching the video below. In this fun 30-minute video, I cover:
What DM uses accounting software for
The history of our old accounting software (Peachtree)
The benefits of our new software (FrontAccounting)
The exciting future of the new software
... and a special surprise =)
That video represents just a taste of the kind of things that the DM Systems Department, by God's grace, is working on and planning. Would you like to be part of it?
Document Actions