Caring for Orphans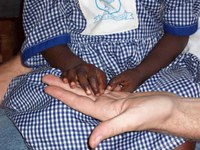 As someone who works with both people and technology, it's sometimes easy to wonder if my efforts would be better utilized if I dropped the tech aspects and focused more on people. After all, Jesus calls us to make disciples of all nations - not to write code at a desk. And His brother James tells us, "Religion that God our Father accepts as pure and faultless is this: to look after orphans and widows in their distress." (James 1:27) So why should I keep working on Linux servers?
Have you ever wrestled with that?
Now, I think it is wise to frequently evaluate where the LORD would have you be. After all, new opportunities for ministry are constantly coming and going! So, just last night I was asking the LORD whether my work on a particular open source software project was still a good use of my time. Yes, that project has been very fruitful for DiscipleMakers over the years. Yes, I really enjoy working on it. But, there are lots of other opportunities too! What about the widows and orphans?
"Okay God... what should I do?"
Not more than half an hour later, I received an email asking for installation assistance with my project from someone I'd never heard of from a ministry I'd never heard of. And, not only was he asking for assistance in installing the latest version, but he'd been using an older version for some time!
Out of curiosity, I checked out the ministry's website. This ministry "is dedicated to providing quality care, such as food, clothing and housing, efficiently and effectively, to deaf orphans in Kenya. We also strive to provide these deaf orphans with a solid education and hope to empower them so they an lead productive lives beyond the orphanage."
My friends, the DiscipleMakers Systems Department really is a "ministry multiplier". Because of some code we've written, college students are coming to know Christ. Pastors are being trained. Medical students are hearing the gospel. Orphans are being fed. God our Father is accepting pure and faultless religion!
Would you like to have your work multiplied thirty, sixty or one hundred fold? Let us know.
Document Actions